Back To Our Services
Anytime anyone is looking for a great garage door company they need to make sure the garage door company they choose is the best around their area. This is why we suggest you to call us to help you with your garage door problems. We are the most prominent in the field of repairing garage doors and the surrounding areas. We have all you look for in a company in this field. We are dependable; we even have an emergency garage door service. We do all garage door services that relates to garage doors and we are inexpensive. Please call us and tell us what we can do for you to show you that we are the best around.
Our most prominent service for both residential and commercial customers is our services for repairing springs of garage doors. Garage door springs, though very important, are also very dangerous. There have been many reports where people have got injured or even killed by trying to replace garage door springs. This is a job for a well trained professional only. Do not put yourself in danger. Call us and we'll handle all of your needs.
Springs are of two kinds - extension springs and torsion springs. These allow the door of your garage to come down easily. Without these the door would crash down. These are built to last but after about 10,000 cycles they will wear down and may break. We can come out and fix these broken springs. This is usually done by replacing them.
We encourage all of our customers that they should never try to do replacing torsion springs by yourself. These can be very dangerous and may injure a person who is not trained in this area. If you need torsion or extension springs repair let one of our techs to do the service for you. Call us today and tell us what you need us to do.
Oil tempered and galvanized- we provide both types of garage door springs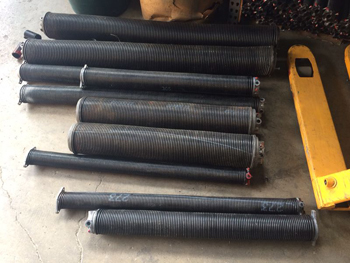 Galvanized springs are just springs with a special coating on them. These will last longer and look better hanging in your garage. Oil tempered springs is when the coil is heated in oil. Tell us what kind of spring you prefer and we can install them for you. Give us a call.
We offer a lot of services apart from repairing springs of garage doors. We can handle any kind of repairs for garage doors or even on sections of garage doors. Whenever you may have a problem with your tracks and cables, you can have us to fix them. These are some of our most common repair services:
* Lose cable
* Displaced cable from drum
* Cable Snapped
* Replace tracks of garage door
* Broken cable
* Repair of bent tracks of garage doors
Back To Our Services